Get Help! (with research)
Get Help! (with research)
We offer many ways to get help!
During our chat hours, chatting us is the quickest way to get help with your research, your library account, or to get answers to any questions about our services. (After hours, see our FAQ)
Reach out to one of our subject librarians for help with their areas of expertise. Yes, they can work with you by Zoom!
We're sharing our favorite library hacks, tips and tricks for getting the most out of the library, even when our buildings are closed. Have one to share?
Instant EZProxy for content we license. 
Skip this one
Sometimes you wind up on the website of a journal UNM has access to, but you're not logged in to our proxy. With our EZproxy bookmarklet, you can proxy any page with one click. Here's how to set it up:
Drag the link below into your browser bookmark list. (You can also right click to copy link address and use this to create a browser bookmark).
Navigate to a webpage containing a resource licensed by UNM.
Click on your EZproxy bookmark.
Sign in to the library using your NetID and password.
Be redirected to access via the library's EZproxy server.
Note that you will receive an error if UNM doesn't subscribe to the content through that source. In that case, can search the library catalog, request the item though interlibrary loan, or ask a librarian to verify whether access is available in other ways.
Browse the Shelves
Skip this one
One of the things we miss most about the buildings being closed is the serendipity of finding a few more great books right next to the one you went to get.
Well, here's how we do it from home:
Start in Worldcat Discovery (that's also the "book search" from our main page.)
When you find a book you like, open up the record and look for the "Browse the shelf" option: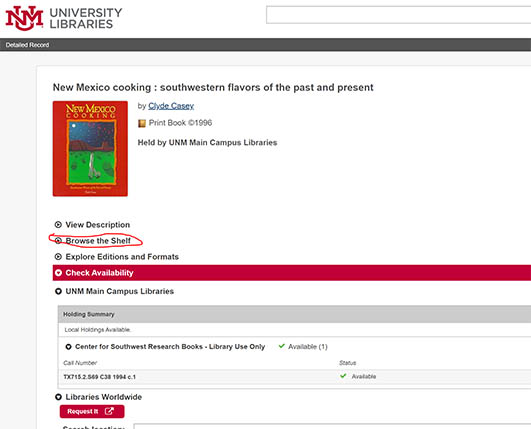 When you open that view, you see the books on both sides of the one you were looking at. You can scroll in either direction. And keep scrolling - it's like all our books from all our libraries are on one very, very, long shelf.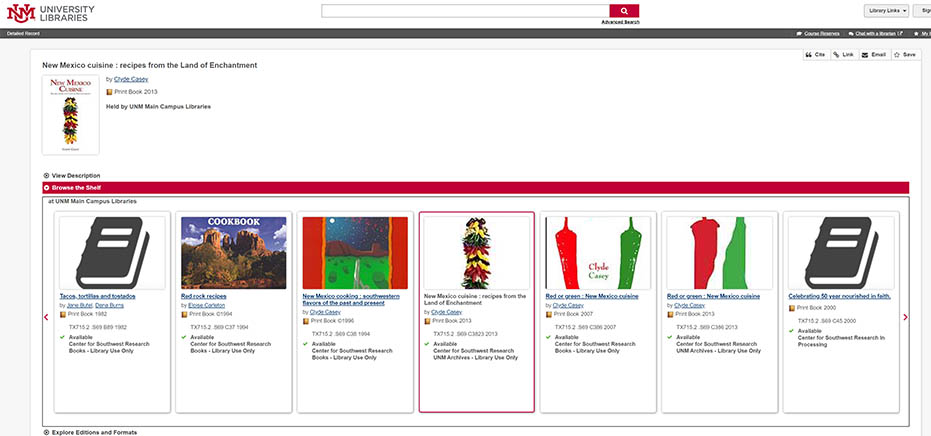 Clicking on any of the books will open up that book's record, where you can place your request for carryout service!
(Things get a little weird when you browse the shelves for music or movies, because those aren't shelved by subject.)  
---
Link Google Scholar to UNM University Libraries
Skip this one
Google Scholar can be a great way to find articles, and if you are on campus, you will get direct links to articles that the library pays for. If you are off campus though, you often get links to purchase articles. How do you get library access from off campus?
One option is to go through the library's proxy server so that you're connection is from UNM. You can do this from the library databases 'G' page (or bookmark this direct link: https://libguides.unm.edu/332).
But, if you have a Google account, you can also link Scholar to UNM (and other libraries, if you have access to more than one):
Go to Google Scholar
Locate the menu button in the upper left hand corner (three horizontal lines)
Next choose settings from the drop down menu
Click Library Links
Type University of New Mexico in the search bar 
Check the boxes next to University of New Mexico and Open WorldCat
Save your settings
That's it! Now, whenever you are logged in to Google, you'll see links to full text for many more results in Google Scholar! 
---
Search the "Wrong" Library
Some of our libraries focus on specific topics. The Centennial Science and Engineering Library focuses on, well, science and engineering. Also math, maps, and other topics that are related to science and engineering.
Sometimes, when you are searching the catalog, you might limit your search to the library that is relevant to your topic.
But what happens if you limit to the wrong library?
Limit a search for biology to the Fine Arts and Design Library, and you get results like this:

By: Purves, Dale. Cambridge, Massachusetts : Harvard University Press, 2017. x, 165 pages : illustrations (some color) ; 25 cm Language: English
By: Green, Keith Evan. Cambridge, Massachusetts : The MIT Press, 2016. xi, 264 pages : illustrations ; 24 cm Language: English
By: Baron, Denis. Paris : Éditions Dis Voir, ©2009. 95 pages : illustrations ; 22 cm. Language: English
Or, search for
music
and limit to Centennial:
By: Rothenberg, David. New York : St. Martin's Press, 2013. 278 pages : illustrations ; 25 cm Language: English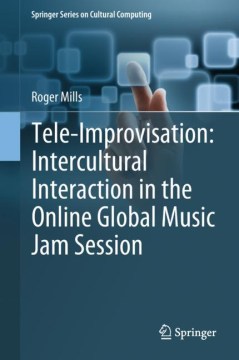 By: Mills, Roger. Cham, Switzerland : Springer, 2019. xxiii, 214 pages : illustrations (some color), tables ; 24 cm. Language: English
By: Alexander, Stephon. New York : Basic Books, a member of Perseus Books Group, [2016] viii, 254 pages : illustrations ; 25 cm Language: English
This can be a fun and enlightening way to see different perspectives on the topics that interest you!
Note: This is one time when doing a very broad search will get you better results than a very narrow one!
---