Latin American Collections
The Latin American Collections represent the strongest single area of the library print materials with nearly 600,000 books in English, Portuguese and Spanish. The Latin American Collections cover all of the social sciences, humanities, and fine arts as well as professional fields, including Business Administration. UNM's holdings for Latin American Art, Art History and Photography are widely recognized among the best in the United States.
University Libraries is an institutional member of SALALM (Seminar on the Acquisition of Latin American Library Materials) and MOLLAS (Midwest Organization of Libraries for Latin American Studies).
Together with the UNM Latin American and Iberian Institute, we host three Richard E. Greenleaf Visiting Library Scholars annually.
Latin American Resources
Latin American Energy Dialogue
HathiTrust conveys electronic access to millions of digitized books from Latin America.
LAMP (Latin American Microforms Project) 
LARRP (Latin Americanist Research Resources Project)
Fray Angélica Chávez History Collections
The Herzstein Latin American Reading Room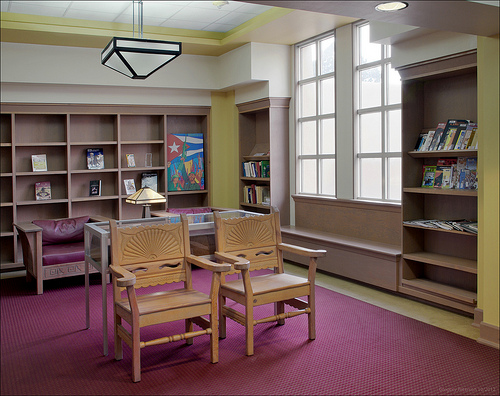 The Herzstein Latin American Reading Room is located on the second floor of Zimmerman Library and is open for use by anyone.
In addition to the light filled reading room there is also a conference room and art gallery.
The Herzstein Room is home to a large collection of Spanish and Portuguese language graphic novels.