Hulsman Undergraduate Library Research Award Winners 2020
The Jim and Mary Lois Hulsman Undergraduate Library Research Award program recognizes excellence in undergraduate research that incorporates the use of University Libraries resources and demonstrates sophisticated information literacy skills. Student award winners receive a cash prize  – $500 for 1st place, $300 for 2nd place, $200 for 3rd place – and recognition for their outstanding efforts. Submissions are posted in the UNM Digital Repository.
The College of University Libraries and Learning Sciences sincerely thank UNM Alumni, Jim and Mary Lois Hulsman, for supporting our student recognition and engagement efforts. We are grateful and celebrate Mr. and Mrs. Hulsman for generously donating nearly $1 million to our college since 2007. 
Excerpts below are lightly edited.
Advanced Researcher Category
First Place
Kathryn Gwen Sokolowski
Kathryn Sokolowski is a junior studying Evolutionary Anthropology with minors in Biology and Museum Studies. After graduating from UNM, she plans on pursuing a Ph.D. in Anthropology and continuing in academia. Her passion for science led her to pursue research in a paleoecology laboratory on campus as well as participate in fieldwork in Romania. When she's not at school, Kathryn spends her time coaching high school speech and debate and relaxing with her cat.
Excerpt from Kathryn's submission
UNM libraries provided an invaluable resource in the form of both the newest published journals and the oldest information from the founders of our field. I soon realized to obtain the answers I wanted, I needed to act as a metaphorical caveman and hunt for the evidence I needed. This included searching through Zimmerman, Centennial, and Clark Field Archive for books on the topic as well as requesting book chapters through interlibrary loan.
Excerpt from Professor Sherry Nelson's letter of support
Kathryn developed a novel, highly relevant question, namely what factors played a role in the first migration of early human ancestors out of Africa. . . Kathryn considered evidence from a diverse set of scientific disciplines within paleontology, and she found meaningful connections between them all.  Her paper in no way mirrored previously published literature but rather provided a much needed synthesis.  Her paper exceeded expectations at the undergraduate level and could potentially be developed into a more extensive thesis.
Second Place
Raven Delfina Otero-Symphony
 An aspiring data scientist and researcher, Raven is a current El Puente scholar studying statistics and Spanish at the University of New Mexico. Spurred by heartbreak, her research interests include Albuquerque's public safety approach to crime and public health for incarcerated people. Raven is also a criminal justice reform advocate who hopes to see community empathy and involvement take precedence over political correctness and injustice, currently to no avail. Before college, Raven was a musical leader in symphonies ranging from New Mexico All-State to performances with the New Mexico Philharmonic, which was often met with the confusion or delight of others over her legal last name.
Excerpt from Raven's submission
With very little formal research done in Albuquerque around the issue of crime and mass incarceration, the foundations for my paper were weak at best. I felt the last thing I needed to do was broaden my research focus some more. However, that's exactly what happened after I met with a librarian for help, and what ultimately saved my paper . . . When I found an important article, I often struggled with finding similar works. It wasn't until I met with Professor Liz Cooper for help that I learned a ton of research strategies. In terms of my search dilemma, Professor Cooper recommended that I look at the bibliography of the article I found important to find related works . . . Meeting with Professor Cooper was a game-changer in my research endeavors, and easily my most important resource. 
Excerpt from Professor Richard Obenauf's letter of support
Despite my initial concerns that such a project might devolve into a manifesto driven more by emotion than by facts, after some discussion, Raven persuaded me that a closer look at the criminal justice system in America—and in New Mexico in particular—would be both a personally and intellectually significant endeavor for her.  She assured me that she would be able to distance herself emotionally from her argumentation, and indeed, this paper stands out precisely because its meticulous analysis grows out of dispassionate research.  The resulting essay, "The Justice System is Criminal," is one of the most deeply researched and most carefully considered term papers I have read in any class I have taught in my decade at UNM.
Third Place
Alexandra VK Iturralde
Elizabeth Brooke Holland
Coleman Piburn
photo of Alexandra Iturralde
Alexandra Iturralde designed her Liberal Arts major around the intersection of science and society, supplemented by a minor in Earth & Planetary Science. After moving to New Mexico from the East Coast, she discovered a passion for environmentalism as a human rights and scientific issue. During her time at UNM, she has expanded upon a broadly interdisciplinary background in STEM, including studies in energy and climate, the history of science, the study of environmental movements, and science communication via NASA internships. She hopes to use her skill set and passions to enter a career in sustainability with a specific focus on sustainable systems and corporate sustainability.

photo of Elizabeth Brooke Holland
Elizabeth Brooke Holland is currently earning an undergraduate degree in English, with a minor in Sustainability Studies at the University of New Mexico in Albuquerque. As a lover of reading, writing, and activism the work she has been involved in with both the English department and Sustainability Studies program has given her an opportunity to incorporate all three into her studies, which she has found great passion in.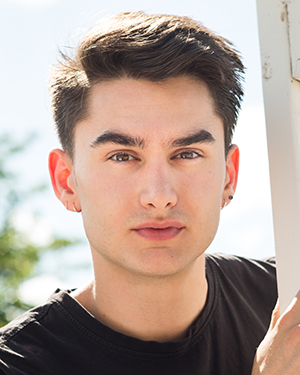 photo of Coleman Piburn
Coleman Piburn is a Senior at UNM who, despite the unpredictability of Covid-19 is expected to graduate Magna Cum Laude in May of 2020 with a Liberal Arts Degree in Environmental Sustainability and Spanish. Proud to be a second generation American, Coleman found great value in his 12 month Sophomore foreign exchange to the country of his heritage: Argentina, and continues reap the rewards of the experience as it informs and inspires his goals and trajectory in life. As an empathetic and artistically driven individual, Coleman is eager to launch himself into the world using these character traits in tandem with the skills he has gained from his studies to find a fulfilling, green, and sustainably oriented career. Coleman applauds UNM for a great undergrad experience and thanks the Sustainability Department and its faculty for inspiring the beginning of a lifelong journey.
Excerpt from the group's submission
We were able to build an informational foundation with planned search strategies and while using library resources including the Library's Sustainability Studies resources guide under "Environment Complete", hours of access of the Fine Arts Library study rooms, the PAIS database for policy reports, and the UNM Law Library guide for finding New Mexico legislative documents. Our discovery of the strongest material for the proposal was, however, often coincidental. Information such as the existence of Minnesota solar programs and subscription-based community solar were "stumbled upon" while researching our initially planned avenues of focus- these details redirected much of our study and became the main body of our final policy proposal.
Excerpt from Lecturer Jessica C Rowland's letter of support
The CSSE group's extensive research into the New Mexico Energy Transition Act (signed into law in 2019), the tabled 2019 NM Community Solar Act, the successful models of solar gardens in Minnesota, and the broad concepts of energy democracy allowed them to design a feasible community solar initiative for the state of New Mexico. . .  The group's policy proposal is timely and forward-thinking in the context of the Energy Transition Act, as New Mexico is just the third US state to commit to 100% clean energy goals.
Emerging Researcher Category
First Place
LaVonne Yazzie
LaVonne Yazzie is a driven, resilient Diné (Navajo) woman and of the Blacksheep clan born for the Bitterwater clan. She is the mother of a wonderfully talented daughter, Lily, and a devoted wife to a deeply supportive husband, Aaron. She is the College Horizons Research Assistant to Dr. Sarah Hernandez in the Department of English Language and Literature, where she assists in promoting #NativeReads, an indigenous reading campaign for the Dakota/Lakota/Nakota people though First Nations Development Institute. She will be graduating in May of 2020 after double majoring in English Studies and Spanish, and plans to apply to the Indian Law program at Sandra Day O'Connor Law School at Arizona State University. Yazzie says "I would like to thank Dr. Sarah Hernandez and Dr. Jennifer Denétdale, whose literary works and exhaustive research break down barriers for indigenous females in the academic world, allowing scholars like myself to reach for the stars."
Excerpt from LaVonne's submission
To begin my research for my literature review, it was necessary to choose a literary term that we had discussed in Ms. Perry's English class during the Fall 2019 semester. The literary term "interpretation" was of great interest to me, as the chapter's author, Steven Mailloux, explained in detail how different interpretations of the ABM Treaty of 1972 allowed the ban on nuclear missile development to morph into missile creation using space as the potential battlefield.  As a Navajo woman, the idea of various interpretations of treaties is something that affects me today, as the Navajo legislature regularly creates policies from federal laws and historical treaties that affect the daily life of the Navajo people.
Excerpt from Instructor Lauren Perry's letter of support
Ms. Yazzie demonstrated keen ability to succeed in a higher-level English course as well as displayed excellent professionalism and communication skills. . . Ms. Yazzie worked very hard in my class all semester. She sat in the front and contributed significantly to daily discussions. The class was quite challenging as it dealt with literary theory concepts. Ms. Yazzie routinely rose to the challenge of writing about and thinking through these concepts.
Second Place
Gus Tafoya
Gus Tafoya is a student, filmmaker, poet, writer, and artist working as a writing tutor at UNM. Most recently Tafoya was awarded a Rocky Mountain Emmy Student Production Award for a short he produced and wrote, his play Something Fell From the Catwalk was produced by CNM and he received a Scholastic Silver Key for his poem A Rough Year. Tafoya says, "As I continue to grow I hope to be able to combine my interests and help flex the different mediums while promoting intimate, personal, relationship based art."
Excerpt from Gus' submission
My research process was complicated and oddly overwhelming. When I began discussing my initial ideas with my instructor Kalila Bohsali, I was completely lost as to what exactly I wanted to study. . . I also lacked the familiarity and experience of conducting high intensity research in a collegiate setting. . . The only reason I was able to handle reading so many articles was implementing the knowledge of "reverse outlining" the article. A technique taught to me by Kalila Bohsali as a way to analyze the credibility, quality, and usefulness of a paper. This strategy is particularly useful for literary analysis, where arguments can often be overwrought, pretentious, and otherwise inaccessible. The Library's most important contribution to my research process was the MLA International Bibliography. Every single work I cited in my final paper was located within the database, mostly due to the works being extensively peer reviewed and more complex than any previous source. In addition to this, I wrote the majority of my paper in the Fine Arts Library which provided me with a quiet and productive atmosphere.
Excerpt from Instructor Kalila Bohsali
This paper is exemplary of his scholarly skills. Gus took one of the most difficult works of the semester, and was able to analyze it, but also make it more relevant for a contemporary audience. For this reason, the paper is both reflective of new turns in the literary discipline, and in this course. 
Third Place
Amanda R. Garcia
Amanda García is a first generation undergraduate student studying Spanish and Chicana/o Studies at the University of New Mexico. She has found liberty in exploring interests and passions such as music, poetry, writing, languages, and different cultures at UNM. Garcia is looking forward to studying abroad at the National Autonomous University of Mexico, and hopes to achieve a career in helping the Spanish-speaking communities in her state find their paths to liberty as well.
Excerpt from Amanda's submission
I learned a lot about the realities of academic research through this project. Research is not a linear process, but rather one that involves many setbacks and dead ends. If you play your cards right, use intuitive research methods, and utilize the vast library resources at your disposal, it can all come together to generate new insights. Great research is more than well supported arguments that aim to add something new to the field of academia. It is an avenue to creating connections, defining and preserving cultural production, and broadening perspectives on the world. I am confident that my research attained this goal, and that the library resources provided me with a strong foundation for this achievement.
Excerpt from Instructor Kalila Bohsali
Amanda is exemplar of new scholarship in the field of English. Although not specifically literary, I think this project and its scope speaks to the new push towards creative and cultural products that is emergent in our field, as well as the importance of intersectional identity, critical race studies, and historical relevancy. Amanda was always ahead of the class in terms of understanding, and this project is no different. She is one of those rare, and incredible, scholars whose work is both timely, and incredibly timeless.